Campuses & Facilities
Twin Campuses
The College provides quality campus facilities and amenities for its students at the twin campuses in Kowloon Tong and Shek Mun (Shatin). Students will be attending in one of the University campuses depending on the curriculum they have chosen, but they can still enjoy the facilities provided on both campuses in their pursuits of whole person development.
Please click here to learn more about main study location of related concentration studies or click here for transportation guide.
Kowloon Tong Campus
The College is well supported by the teaching facilities at the School of Continuing Education Tower (SCE Tower) which consists of a gross floor area of 5,607 sq. m. (5th floor to 12th floor of the building) with multimedia equipped classrooms, a resource library with multi-media language booths, computer laboratories, fitness room, counseling rooms and offices for administrative staff.
Collaborative departments also provide learning facility support in related Concentrated Studies areas, including the biology and chemistry laboratories, the Cinema and TV Studio, the indoor gymnasium, swimming pool and sports fields, the Fine Art and Music rooms, and the news and report writing studio.
Students can also use other University facilities, including libraries, computer laboratories, sports facilities and student support services.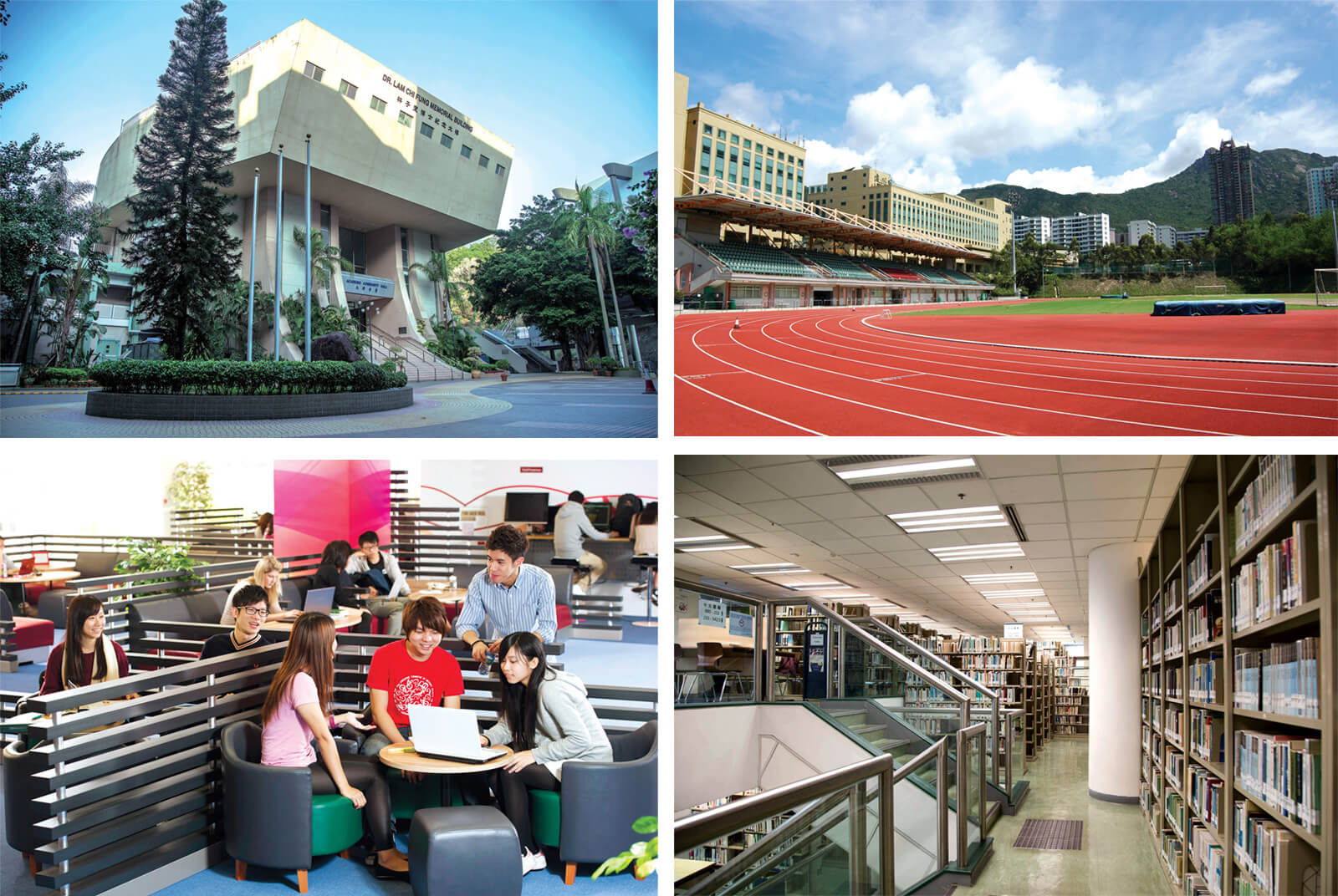 Shek Mun Campus
With a gross floor area of 30,000 sq. m., the campus provides full university facilities including library, multi-media laboratories, various Specialised Laboratories and sports facilities solely for CIE full-time students. The media communication laboratory and the studio are also set up to provide students with practical experiences in their study areas.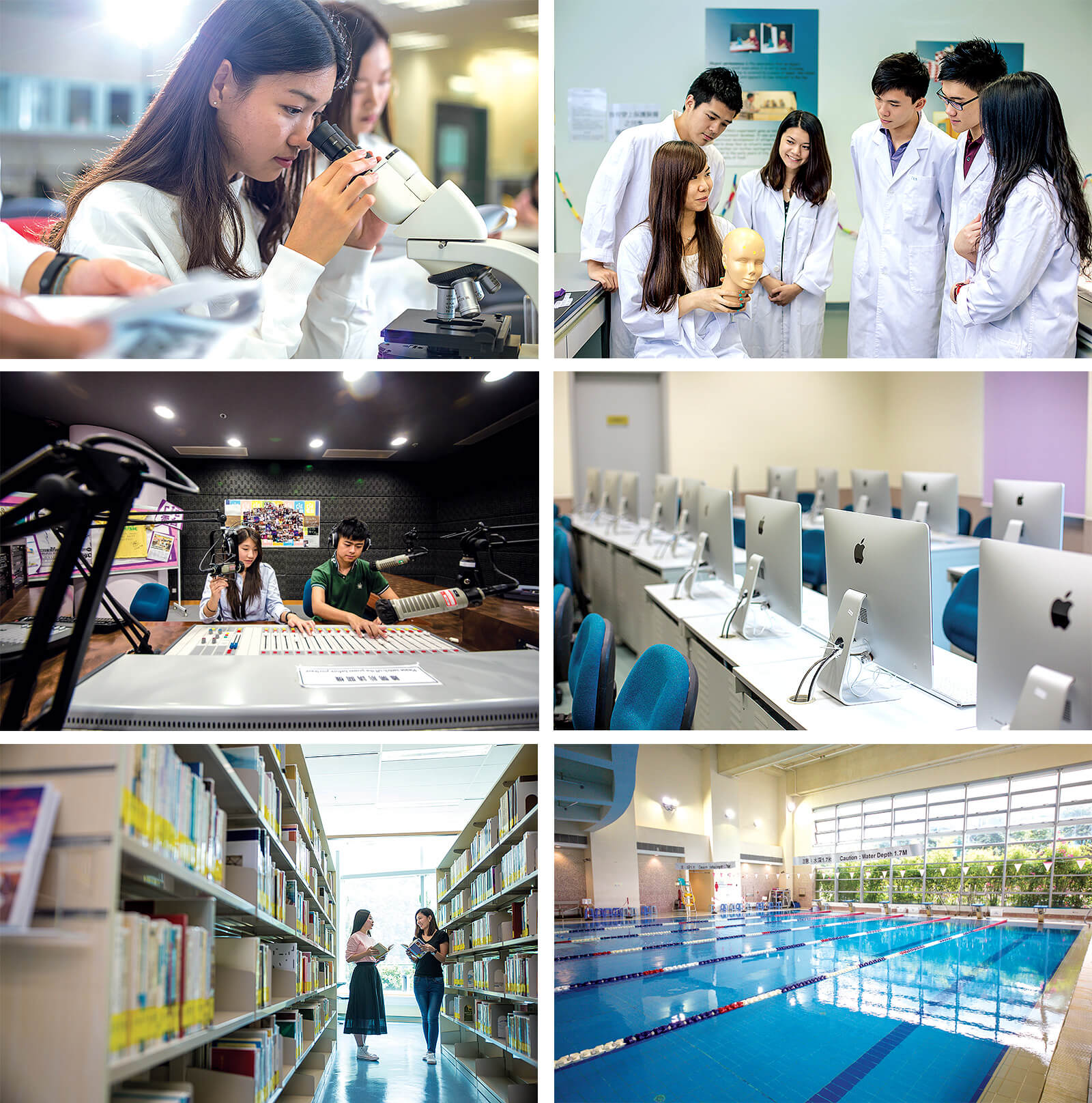 Library
Learning Commons
Information Technology
Sports Centre
Teaching Venues
Communication Studio
Press Conference Room
Specialised Laboratories
Multi-disciplinary Research Centre
Library
Located on 4/F HKBU Shek Mun Campus, Shek Mun Library offers a total of 1,600,000 volumes of books together with the HKBU Main Library. Apart from books, students can also gain access to about 1,300,000 e-books, periodicals, magazines and newspapers.
Apart from reading resources, the Library provides spaces for leisure reading, study booths and Group Viewing Rooms for group discussion.
Learning Commons
The Learning Commons at 1/F, which was launched in Oct 2011, strives to facilitate students' individual, collaborative learning through the provision of user-friendly IT facilities and service environment.
Computer Stations and Printing Stations
Self-study Corners
Information Technology
Other than the multi-media laboratory which provides not only spaces for lecture but also an area for self-study, computer kiosks and Wifi access with well coverage over the campus are also available to support student's learning.
Multi-media Laboratory
Computer Kiosks
Wifi Service
Sports Centre
The Sports Centre provides a wide range of sports facilities for lecture and leisure purposes.
Indoor Heated Swimming Pool
Two Gymnasiums Available for Badminton, Table Tennis, Basketball, Volleyball
Fitness Room
Dance Room
Teaching Venues
There are various types of teaching venues in different floors to facilitate various activities at Shek Mun Campus.
General Classroom
Lecture Theatre
Auditorium
Communication Studio
The Communication Studio serves as a practicum venue for students studing creative communication. Its setup is based on the blueprint of the recording studio of Metro Broadcast Corporation to provide technical support for recording and frontline production training (DJ on panel).
To enable students to have a real experience in producing radio programmes, the CIE Channel was setup in 2009. It is the first online radio station run by Associate Degree students in Hong Kong.
Press Conference Room
The Press Conference Room demonstrates the real setup being used in the industry. It is supported by a Live Broadcasting System which provides students with a comprehensive training in organizing press events.
Specialised Laboratories
Various Specialised Laboratories are designed to cope with the teaching and learning needs of different programmes.
Bioeco Laboratory, Food and Nutrition Science Laboratory, Creative Science Laboratory
Psychology Laboratory
Multi-disciplinary Research Centre
The Multi-disciplinary Research Centre (MRC) serves as a centralised platform to promote and conduct research and the related activities among academics, researchers and students. It aims to develop and strengthen research collaborations within the School, University and beyond, locally and internationally, with academics and the community.
Active Living Laboratory
Social Science Research Laboratory
Testing and Analytical Laboratory
Student Common Area
Podium Café
Piano Practice Rooms
Sky Garden